Much of the western region of Guatemala is known for agriculture. The town of Santa Maria Cauque, in the state of Sacatepéquez, is a farming community located 45 minutes away from Guatemala City. It is home to the Trust Bank, Sembradoras Santa Maria Cauque, the "Farmers of Santa Maria Cauque".
As their name implies, the women spend long hours with their families working in the fields each day. They produce cilantro, radishes, lettuce and parsley. The loans help them buy more seed and fertilizer for their crops. Each woman farms between three and six acres of land.
Despite being so close to Guatemala City, Santa Maria Cauque is not very developed, especially in the area of primary education. Most children who attend school complete only six years. The women of Sembradoras Santa Maria Cauque hope to change this trend by having their children complete high school. By doing so, the next generation will have the advantage of a very different future.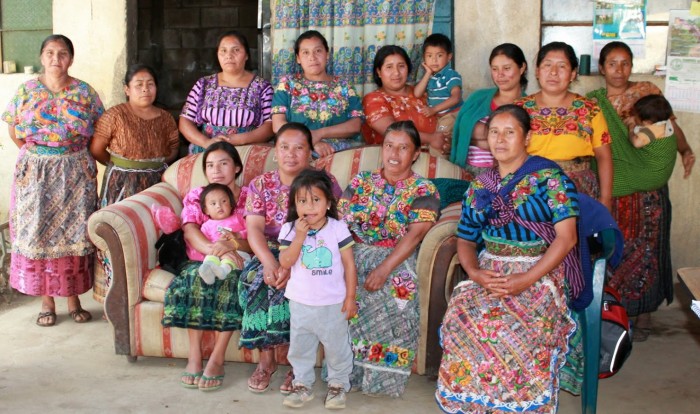 Without a loan, women who farm in Guatemala have to wait until they sell their harvest in order to invest in and plant the next season's crops. Funding from Friendship Bridge allows them to buy what they need during the planting season so their harvest can be more plentiful and next season's crop is something they can plan for. "I like how Friendship Bridge works in the agriculture business. Thanks to the loan, I could invest in my four acres of land and my family, and I am anxious for winter to come so we can grow even more," says Margarita Morales, the Trust Bank's Treasurer. Maria Leticia Chiroy adds, "The trainings are also important. I always remember the training about family income and savings. When I am about to buy something, I always think about it first. Will it be an investment or an expense? It helps me make better decisions."
Two years ago, Friendship Bridge implemented an Advanced Training course for smallholder farmers. Nine women from Sembradoras Santa Maria Cauque attended the seminar and learned about organic fertilizer preparation, land clearing, and food safety, among other things. "I am proud to have had the opportunity to participate in that training because I learned how fertilizer is made, and also the benefits of preparing the land so crops can grow better. The classes were also fun. We were like school students learning in a classroom and then practicing what we learned," says Elia Mercedes Cutzan. "The training was motivational. Our trainer told us we were able to improve our yield. He did not teach us what we already knew, he taught us how to do something different. Also, I hardly ever leave Santa Maria Cauque, so this was a great experience," says Margarita Morales. Felisa Aguilar summed it up, "Our dreams are always big, but now our effort and sacrifice are paying off. We get up early every day, travel to Guatemala City to sell our harvest in the largest vegetable market in the area. We come back for breakfast and then go to the fields to work. Our efforts are changing our quality of life."